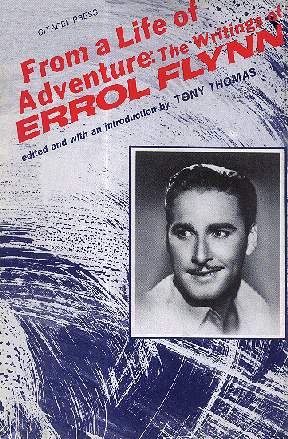 People fortunate (or unfortunate) to have crossed paths with Errol Flynn would tell you how articulate the star was. Even his mother was fascinated by the verbiage of a three-year-old capable of expressing himself with multi-syllabic words.
Like many actors who could or would not tolerate a conventional education, Flynn pursued literary classics on his own, as well as books on language, history, etc. He submitted articles to a Sydney paper while tramping around in New Guinea, then later on took advantage of his fame to get a press permit into wartorn Spain and have two books published.
When hard living caught up with his memory and attention span, Flynn announced to the press that he was giving up his first love. They thought he refered to women, when he corrected them and said it was in fact writing. As a writer he certainly had potential, and much of his published material is accessible:
---
Note: Titles are arranged according to their earliest chronological references.
My Wicked,
Wicked Ways
Errol Flynn · First Pub 1959

From a Life of Adventure:
The Writings
of Errol Flynn
Ed. by Tony Thomas · First Published 1980

Beam Ends
Errol Flynn · First Published 1937

Showdown
Errol Flynn · First Published 1946
Return to top of Page










---
All original contents (writing, graphics) ęD.David and may not be used without permission