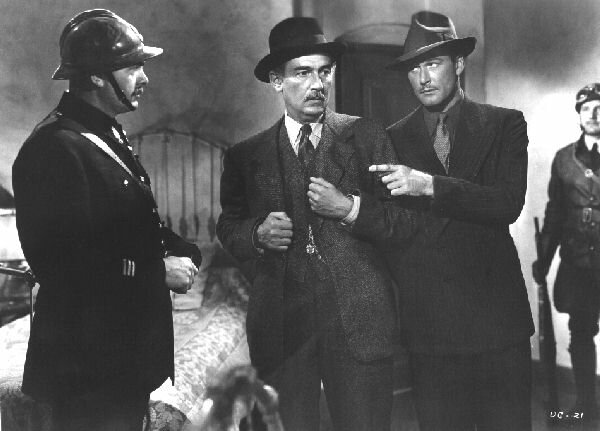 ---
Image ug21
courtesy
Derek Dubery
---
Uncertain Glory
In 1943, the notorious statutory rape trial Flynn was involved in changed his public image from that of a mischievious, lovable rogue to an outright womanizer (more on the trial coming soon elsewhere on this site). There was no doubt that it would have an effect on future roles. While the trial was under way, typical idealistic Flynn fare such as DESPERATE JOURNEY and GENTLEMAN JIM were being met with chuckles from audiences nationwide. In his first casting following the trial (NORTHERN PURSUIT), Flynn played a Canadian mountie who initially appeared to have sided with the Nazis. The following film went one step further with the tainted character theme: in UNCERTAIN GLORY, Flynn plays a criminal who shows no hint of remorse.

Jean Picard (yes, you heard right) is sentenced to the guillotine for murder. During his execution, the prison just outside Paris is bombed. Picard escapes, but not far behind is Inspector Bonet, a detective well acquainted with Picard's career.

Once recaptured by Bonet in Bordeaux, the two head back to Paris by train, only to face a detour; the Underground have blown up a rail bridge. The Nazis have incarcerated 100 men from a nearby village as hostages in exchange for the saboteur's surrender. Picard decides that turning himself in to be shot by a firing squad would be less harrowing than facing the guillotine again, and persuades Bonet to consider his exceptionally altruistic gesture. Bonet realises that submitting to Picard's plan would mean disastrous consequences for him should it be discovered, but decides to go along with the criminal's suggestion. They decide to remain and scope out the site of the damage to contrive a convincing plot. Once Bonet notifies Paris that the criminal has been shot dead trying to escape, Picard sees an opportunity to live an extra day or so under his new alias, Jean Duponte.

Meanwhile, the villagers are hatching a plot of their own: to pin the deed on a stranger in an attempt to get back their friends and family. The mouthpiece of the group - Madame Maret - even encourages her employee Marianne (Jean Sullivan) to show the two visitors around; Maret is played by Lucile Watson, who also appears in NEVER SAY GOOD BYE as Flynn's meddlesome mother-in-law. There are some rabble scenes, but Bonet's reputation throws off suspicion long enough for the two men to get around. When French authorities finally do catch the saboteur, Bonet provides them with an alibi so the man can go free. But first the agent divulges details of the attack.

While Bonet nurses a bad cold, Picard decides to leave the village with Marianne. But in a change final of heart, he meets up with Bonet in Paris to turn himself in.

While UNCERTAIN GLORY is by no means boring, it certainly makes for an odd film. There's nothing likeable about Picard; Walsh successfully directs Flynn as a man whose usual inimitable charm leaves a bad impression with us. The dialogue is also odd in places, like when the topic of spontaneous combustion comes up while Bonet and Picard sit in a cathedral.

Errol Flynn's performance in this film is inconsistent. He actually displays occasional bursts of genuine dramatic ability. Sad to say, another inconsistency is his appearance: during this film, his addiction to drugs - combined with heavy drinking - resulted in a number of shots in which he looks bloated and considerably older.

To buy or not to buy? Well, I took a chance and bought it sight unseen when MGM/UA released it in December of 1994. Although I do find it a strange film, and although it didn't do so hot at the box office back in 1944, I do rather like it. My advice would be to rent it first if at all possible; a well-stocked video store should carry it. If you're a dyed-in-the-wool Flynnatic, you probably own it already. I could think of worse films he's done...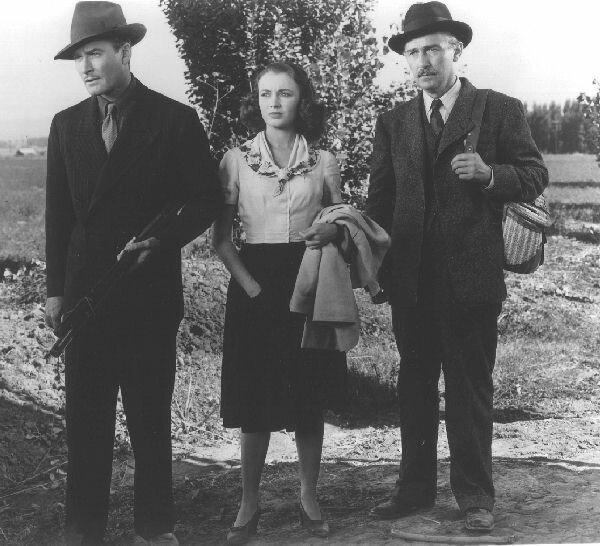 Jean Picard (Flynn), Marianne (Jean Sullivan), & Marcel Bonet (Paul Lukas).






All original contents (writing, graphics) ęD.David
and may not be used without permission