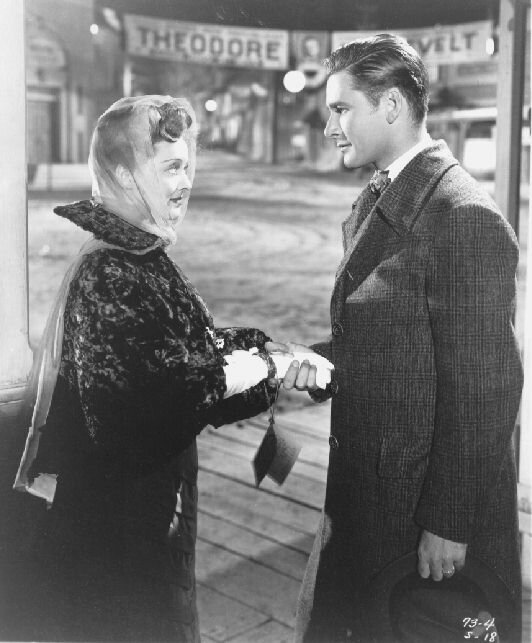 ---
Image SIS-D1
courtesy
Derek Dubery
---
The Sisters
Many people forget that Errol Flynn and Bette Davis co-starred in a movie before THE PRIVATE LIVES OF ELIZABETH & ESSEX. In 1938, both of them were pretty hot stuff: she an Oscar winner, he the industry's major heartthob; THE ADVENTURES OF ROBIN HOOD burned up screens all over the world while plans for THE SISTERS was under way.

They were paired for the first time in this film. It is a departure for both their reputations, as Davis plays a nice, smalltown girl and Flynn doesn't play a swashbuckler. And contrary to Flynn's gripes over Warner Bros' assembly-line mentality, here was an opportunity for him to sink his teeth into a dramatic, civilian role. He actually delivers a few bursts of real acting in places, too (but not as much as he does in his next film THE DAWN PATROL).

The story focuses on the coming of age of three smalltown daughters, particularly the eldest, Louise Elliot (Davis). Events are situated neatly between two presidential elections. The Elliot family participate in the 1904 election night bash, where Louise meets Frank Medlin (Flynn), a free-spirited, fast-talking sports columnist from San Francisco. They fall in love, and after only a few days get married and head west.

But married life doesn't work out too well. Frank is intimidated by his strange new lifestyle of commitment, loses his job and slacks off on his dream novel, then takes to drinking. Louise loses their child, and when she resolves to go to work, she faces wounding her husband's pride. By April of 1906, Frank decides to take up on a ship headed for the Far East in an effort to find himself. Upon discovering his intent, Louise tries to find HIM before the ship departs and fails...

...Two years later, the three sisters reunite in their hometown for the elections when one still in Montana is caught in a marital crisis. The remaining two - having both lost their husbands one way or the other (and Louise a baby AND also surviving a major earthquake the night Frank departed), are determined to help their sibling out so that she keeps her man. In the meantime, Frank returns from his voyage and heads immediately to Silver Bowl. He arrives time for the the election bash - and a resolution with his wife.

This is most definitely a Bette Davis film. So why did Errol Flynn get first billing? Because he could, just as he had with THE PRINCE & THE PAUPER. It could have been among those things which caused Davis to object so vehemently to co-starring with him again (I would assume that if there had been any serious personality conflicts during the shoot, we certainly would have heard something about it).

Davis & Flynn take a break with their faithful companions
(Flynn with the notorious Arno).

This movie is also regarded by many of Errol Flynn's female contingent of fans to be the one in which he looks his most handsome. And indeed despite Frank's somewhat roguish manner, that charm and deceptively angelic appeal permeate the screen. Those of you ladies who have yet to see THE SISTERS will have to rent/buy it and judge for yourselves; it is available from MGM/UA.






All original contents (writing, graphics) ęD.David
and may not be used without permission