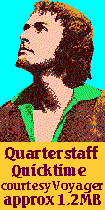 Errol Flynn & Olivia de Havilland as Robin Hood
and Maid Marian
The Adventures of Robin Hood
We really have to take a moment to thank the late great James Cagney. The success of the unlikely cast in WB's adaptation of Shakespeare's A MIDSUMMER NIGHT'S DREAM in 1935 prompted the studio to seriously consider them for a remake of Douglas Fairbanks Sr's silent masterpiece ROBIN HOOD. Cagney would play Robin, while Frank McHugh, Guy Kibbee, Hugh Herbert, and other Warner character staples would comprise his band of Merry Men. Due to a contractual dispute later that year, Cagney walked out on Warners. That was just when Flynn scored big with Captain Blood. Who says timing isn't everything?
Actress Anita Louise was slated to play opposite Errol Flynn in the role of Maid Marian. Originally Olivia De Havilland was considered, as plans for the film were being laid out at the time of CAPTAIN BLOOD's run. But as drafts and plans progressed over the next year, the choice settled on Louis, no doubt because she was appearing with Flynn in THE GREEN LIGHT, the studio's latest success. Flynn's buddy David Niven wanted to part of Will Scarlet, but was filming in England as plans for production congealed, and Patrick Knowles stepped in. It was Alan Hale Sr.'s second time out as Little John; Hale had originally portrayed the character in the Fairbanks version back in 1922.
Filming was done during the fall of 1937 in a local park, on the backlot, but for the most part up in Chico CA. The studio had a large area of property up there used for many films which required extensive exterior shots (other Flynn films shot in Chico include CHARGE OF THE LIGHT BRIGADE, THEY DIED WITH THEIR BOOTS ON, and OBJECTIVE, BURMA!)
Keighly directed because ADV OF RH was to be shot in Technicolor, a rare process at the time (Full, 3-strip Technicolour was still a relatively new and costly process; it was used in small amounts, as in cartoons and shorts); Keighley had directed WB's first 3-Strip Technicolour feature. William Keighley, who had previously directed The Prince & the Pauper, was replaced with Mike Curtiz when execs felt that the latter could turn out more engaging material.
Max Steiner was set to compose the score when Korngold was in Vienna. But when the film's release date was held up - topped with the political climate getting a little hot in Austria, Korngold came over.
Much research was done to compile the various Robin hood stories and adapt the most memorable events, including Robin & Little John's quarterstaff competition, the archery tournament, Friar Tuck carrying Robin across the river on his back, etc. The studio engaged the services of world famous archer Howard Hill, who trained Errol Flynn and did stunt shots; Hill also played Captain of the archers, and competes with Robin during the tournament. The two became very good friends as a result of this film.
Errol Flynn taking pointers on handling a bow from Howard Hill.
A jousting sequence shot to open the film and establish the characters, their rivalries, etc. was cut when it was determined that it would detract from the archery tournament to occur later in the film. Stills and the script of these missing scenes still exist (expect to see new pages with Video & book resource info to be added to this site sometime during the week).
THE ADVENTURES OF ROBIN HOOD was an international sensation, and replaced Fairbanks' ROBIN HOOD as the definitive film of its genre - a distinction it carries to this day. When it was re-released in the late 1940s amidst a burst of period films, it enjoyed another healthy run. With its colourful costumes and elabourate sets, it was also a popular film to offer television viewers during the 60s & 70s, and no doubt many of you who grew up with it regard ADV OF ROBIN HOOD as THE Errol Flynn movie of choice.
There are three sequences which folks enjoy recalling above the others:
Robin defiantly strolls into the great hall with a deer carcass on his shoulders to engage Prince John in rebellious banter. Flynn, whose features uncannily resembled that of a classic illustration, was a perfect choice for Robin of Locksley, and such a scene of bravado couldn't have been portrayed by a better man.
Robin visits Marian following his escape from the dungeon. The sequence between Errol Flynn and Olivia De Havilland is considered one of cinema's greatest romantic moments.
Reprising their duel in CAPTAIN BLOOD, Basil Rathbone as Sir Guy of Gisbourne - having been inspired by 'BLOOD to seriously pursue fencing - and Flynn under the careful choreography of Fred Cavens brought us an exciting sequence which has been imitated and parodied countless times since.


Robin's classic duel with Sir Guy to the death.

Video and laserdisc availability? You bet! A 50th Anniversary edition laserdisc was released in 1988 with narrated footage of production scenes, including outtakes from the climactic swordplay. It is available on the web from Voyagerco.


Robin Hoodlinked!


An epic is going to have tributes, and THE ADVENTURES OF ROBIN HOOD is no exception. Here are a few sites devoted to this great film:

Voyager In-Depth: Adventures of Robin Hood,a review on the Voyagerco laserdisc site by Rudy Behlmer, co-author of THE FILMS OF ERROL FLYNN.
The Greatest Films features a detailed synopsis of the film with memorable quotes. Ambitious, but recommended for those who have already seen the film since it gives away everything.
Cinema Paradiso reviews the film in Norwegian, but it is worth the visit even by English-speaking cybersurfers; it offers the replica of a classic poster to download.
The Mel Brooks film Robin Hood: Men in Tights might have been inspired into production by Kevin Costner's version, but anyone who has seen the Errol Flynn version KNOWS that it clearly shares equal time in this amusing spoof.


Flynn & de Havilland the way fans like to remember them.





All original contents (writing, graphics) ęD.David
and may not be used without permission