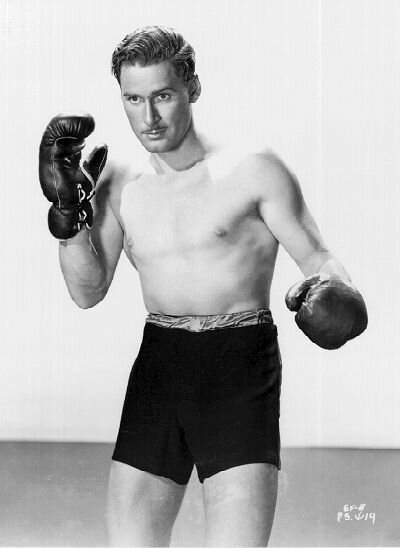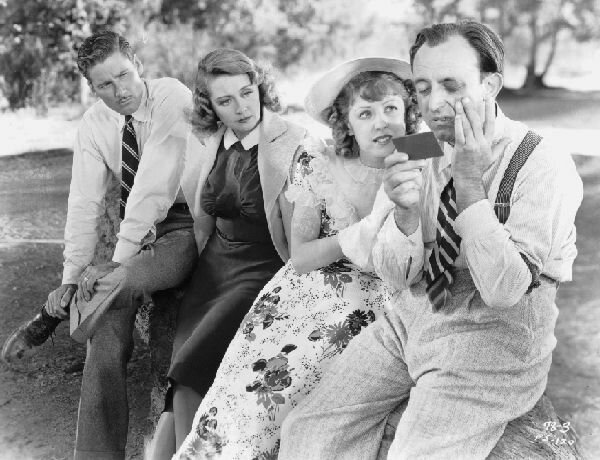 L to R: Errol Flynn, Joan Blondell, Dennie Moore, & Allen Jenkins
The Perfect Specimen
The story of heir Gerald Wickes, who has been meticulously raised under heavy supervision on his grandmother's estate. He one day meets a rather free-spirited lady - Mona Carter, the daughter of a professor - and decides to escape to have some fun. He tracks down Mona and they go on their adventure together. Meanwhile, a nationwide search ensues for Gerald's alleged kidnappers.
Well you have to ask yourself: Does every film HAVE to be an epic? Does it HAVE to be a big-budget swashbuckler? Heck no! This is a modest screwball comedy and a great deal of fun. Some reviews criticise Flynn for being awkward, but there are two things to his defense here:
Gerald is supposed to be a bit dull and naive. He more than proves himself in assorted situations by virtue of his daily regimen (cooking, boxing, auto repair...), but he is socially inept. Flynn SHOULD play Gerald a little out of sync.

The film is what I would call a "cute" vehicle; he is expected to be cute, lay on the charm, etc. From what I see, that's all they really required of him for this anyway. Well, Warners certainly knew what the public wanted.

And let's not forget Joan Blondell. She was pretty cool during this era; being typecast as an assertive female isn't the worst sentence in the world, is it? Here is a character who happens to be not only gutsy, but highly intelligent. In the end, Gerald ends up married to a kind of homegrown perfect specimen. Guess he picked one okay all on his own, eh?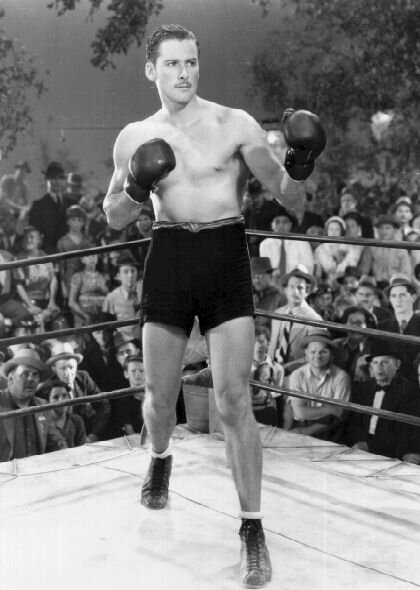 I had the good fortune of seeing this in a theatre during a screwball comedy retrospective in 1995, and I made note of audience response. The film got big laughs, particularly when Grandma Wickes squawked at everyone. Also there is an abundance of noted character actors in this film: Allen Jenkins, Hugh Herbert (-heheh- people involuntarily parrot his trademark affectations, even in a theatre), Edward Everett Horton - so you really can't go wrong (well okay I think they could have given EEH more clever dialogue). In the end, people all over the theatre asked eachother, "Did you ever hear of this one?" "No! Why don't they ever show this on TV? I've never seen this!" I heard this pretty much a few times from different people as I made my way out. And also, I might add, everyone had a big smile on their face. So did my friend and I.
The Perfect Specimen is not available on video. Not sure why something as inane as Footsteps in the Dark got released and not this one, but that's my opinion. At this time, the only way you CAN see this film is thru one of Ted Turner's channels if someone decides to put in on the schedule. And in the USA unless it's TCM, it's probably going to be colourised (UGH) and sped up (double-UGH).
Noteworthy: Yes, he wears his wedding ring on and off throughout the picture. It didn't seem to make much of a difference when it came to discouraging Flynn's female fans - no doubt much to Lili Damita's dismay.
Last but not least: It was amusing to check clippings of the period; whenever there was some altercation or commotion in a niteclub or public function involving Errol Flynn, they would make it a point to accompany the article with one of the boxing poses from this movie (no, NOT from Gentleman Jim!).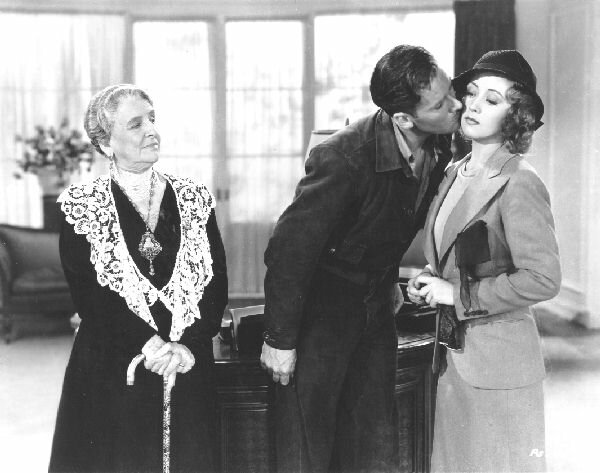 A determined Gerald kisses Mona as Grandma Wickes looks on






---
All original contents (writing, graphics) ęD.David and may not be used without permission