Montana
He's a lowly sheep herder. She's a cattle baroness. It all comes down to equal rights for livestock in this 1950 Technicolor Western.
Flynn as Morgan Lane (an Australian for a change) goes undercover as the partner of a wandering peddler (S. Z. Sakall) to avenge the death of a shepherd and outsmart the cattlefolk by securing land for his herd of sheep. He woos the most persuasive prospect, cattle heiress Maria Singleton (Alexis Smith), serenading her in the guise of a guitar lesson.
Of course she is less than pleased when she finds out the actual use Lane plans to apply the land she turned over to him. Another war threatens to erupt in the area over the cattle vs sheep issue, and before long Lane finds himself staring down the barrel of Miss Singleton's rifle as he defiantly leads his wooly possessions through the center of town.
This movie's not too spectacular - I won't kid you. The characters appear to lack any real dimension. But it's not dull. There are amusing bits, like S. Z.'s usual Sakalisms and the duet "Reckon I'm in Love" sung by Flynn and Smith.
On the downside is the laughably bogus badguy Rod Ackroyd (Douglas Kennedy). And what is to be a climactic stampede sequence is very poorly and cheaply executed with back projected cattle. The finale seemed thrown just in to end the movie.
Warner Home Video puts this one out. If you aren't a completist, I'd suggest renting it before thinking about buying it.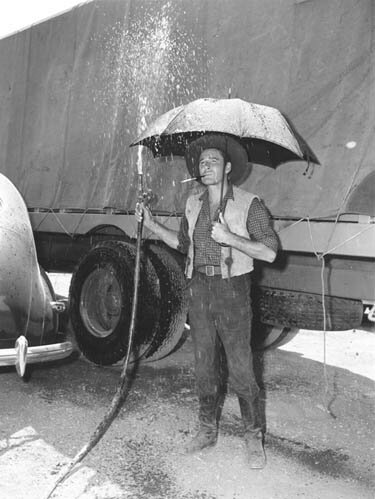 Flynn goofing off during a break from shooting.






All original contents (writing, graphics) ęD.David
and may not be used without permission