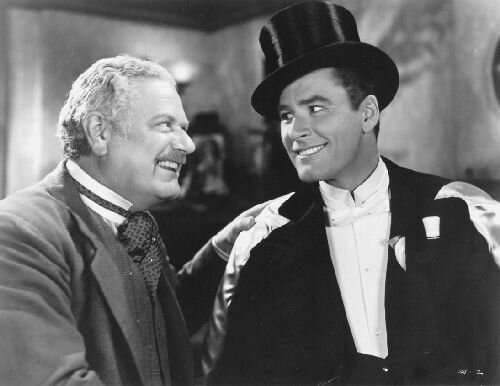 Paddy Corbett (Alan Hale) wishes his son well for his first fight.
Gentleman Jim
Of all the movies Errol Flynn has appeared in, GENTLEMAN JIM is my favourite. I know, I know: no swords or Galleons or elabourate Korngold Score. But under the reigns of director Raoul Walsh, this film happens to pack a lot of charm, laughs, and of course action. It was a kick to learn that this was Flynn's favourite film as well.

This biopic is about boxer James J. Corbett's rise to fame as world champion under the Marquis of Queensberry Rules. Starting out as a bank teller, Jim wins favour with San Francisco's society set by talking the police into releasing them all after a boxing match is raided. He has his eye on the judge's daughter Victoria Ware (Alexis Smith). She sponsors him into the Olympic Club, both out of curiosity and in the hopes that he'll get knocked out and humbled. Instead he wins the match, defeats the champion of England, and becomes the pride of his family and community.

When Jim and his buddy Walter (Jack Carson) wake up with hangovers - in a Utah hotelroom - they learn that Jim had accepted a gig to fight under the management of promoter Billy Delany (William Frawley). Thus begins Jim's professional career, leading to fame, the Broadway Stage, and the opportunity to get his family into business and a residence on Knob Hill. The climax of course is the big fight for the world championship against John L. Sullivan.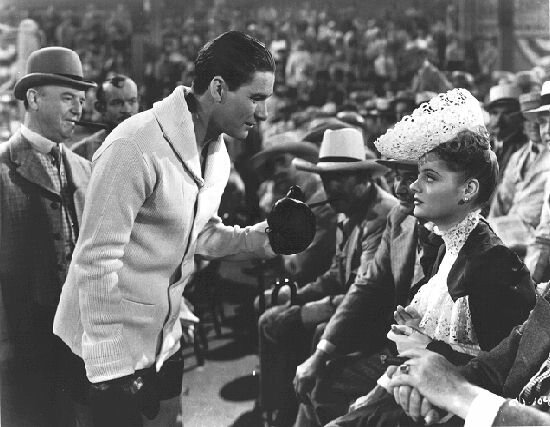 Jim at odds with an assertive, independent lady from the other side
of the tracks.
You can tell folks had fun making this. Flynn trained diligently for the role (even though this boxing style was already prevalent in THE PERFECT SPECIMEN); the only time a stunt man was used in the fights was when Jim falls backward off a wharfside ring and into the water. Alan Hale steals the picture as Jim's outspoken dad, and Ward Bond is incredible as the legendary John L.
Class plays an important role in this movie, even more than boxing. One aspect which is apparent in GENTLEMAN JIM is the relation of class with how women are regarded: Victoria Ware is a very intelligent and independent character, whereas Jim's sister Mary is better seen and not heard - sometimes better off not seen! This distinction is what distances Jim from Victoria. Then again it is Jim's earthy upbringing which is responsible for his brash, assertive character and the key to his success.
This film makes people laugh and cry, makes them hold their breath. Certainly if you have never seen GENTLEMAN JIM, you should do something about this at your earliest convenience! I make it a point to watch it every St. Patrick's Day.
Side notes: This film was released in Early 1943 while the double rape trial was under way. I share the maven's opinion that GENTLEMAN JIM marked the end of the magic; Flynn's career was to decline with few exceptions among his remaining films to suggest otherwise. Also some might find of note that he had suffered a mild heart attack while filming the John L. bout; Flynn was only 33.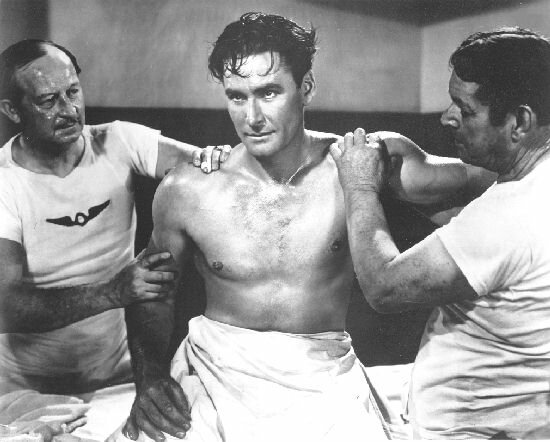 All original contents (writing, graphics) ęD.David and
may not be used without permission