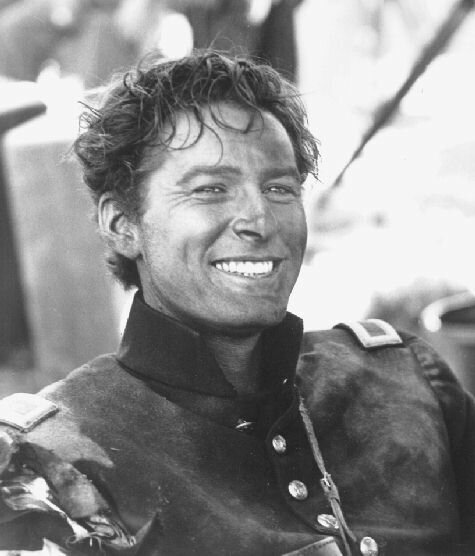 George and Libby Custer (Flynn & DeHavilland) bound for the
Dakota Territory and the Seventh Cavalry with the help of
California Joe (Charlie "Uncle Henry" Grapewin)
They Died With Their Boots On
'Boots is about the life of General George Armstrong Custer, from his military training at West Point to his notorious Last Stand in 1876. It has an excellent cast, excellent direction by Raoul Walsh, an excellent score by Max Steiner (GWtW, Adventures of Don Juan, et. al.), excellent character development, and excellent performances by everyone. It's exciting, intense, rousing, tear-jerking, and funny. It's also based on actual events. Kinda.

I have a friend who said this was once his alltime favourite movie - this is after all one of Errol Flynn's greatest roles, in one of Classic Hollywood's most rousing adventure biopics - until he learned that George Custer wasn't really the great friend of Native Americans as depicted. The thing is, much of the movie is fluff. If one took this as JUST a movie and not as total fact, then the controversy over its events is no longer an issue. They shouldn't have been in the first place if you ask me. Although we often do, we must NEVER use movies as a substitute for reading books or referring to actual accounts.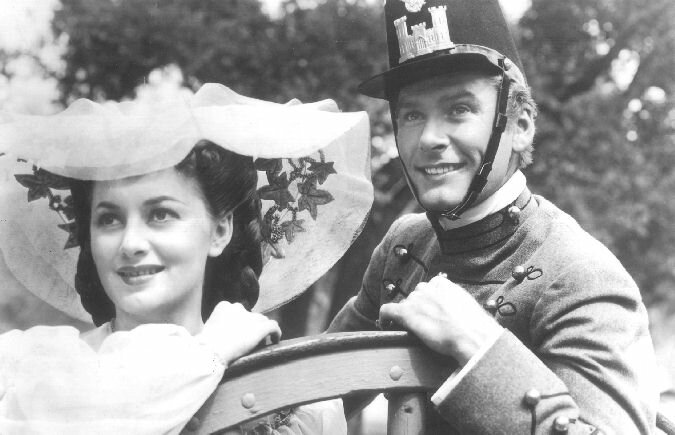 | | | |
| --- | --- | --- |
| | It's love at first sight for Elizabeth Bacon & George Armstrong Custer. | West Point Delinquent Custer gets to graduate & fight in the Civil War. |
George Armstrong Custer enters West Point Military Academy on the wrong foot, thanks in part to upperclassman Ned Sharp. Over the next three years, Custer accumilates enough demerits to miss graduating with his class. This is a lucky break for him, for he remains on the grounds long enough to meet Elizabeth Bacon, whose father is visiting the school's commandant. It's love at first sight for them both, but George is forced to stand her up on their first date when he is handed his diploma and sent to Washington D. C. for assignment in the Union Army.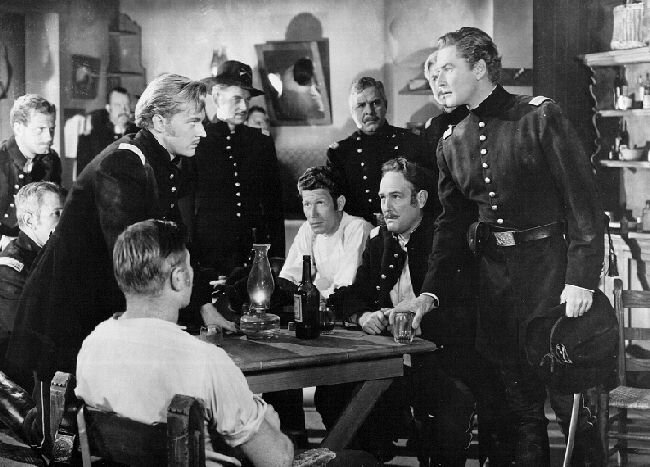 Custer meets up with old school chum Ned Sharp (Arthur Kennedy),
a superior officer in the 2nd Cavalry


Custer slugs squadron commander (and former classmate) Ned Sharp and leads the Second Cavalry to victory, awarding him a bullet in the arm, a medal on his chest, and a leave from the army. He takes the time to visit the Bacons, who happen to live in his hometown of Monroe, Michigan. George and "Libby" pick up where they left off years before, but only for a brief visit; he is called back into action to fight in the Michigan Brigade. An administrative snafu promotes George to Brigadeer General, where he disobeys dispatched orders and saves the day once more, thereby winning the acceptance of Libby's father and promptly marrying her...

...But the end of the war does not bode well for Custer. Inactivity drives him to drink (the real Custer never touched alcohol). A sleazy business proposal offered by Sharp and his father is met with disdain and promptly rejected. Elizabeth goes to D.C. to discretely persuade General Winfield Scott (Sydney Greenstreet) to bring her husband out of retirement.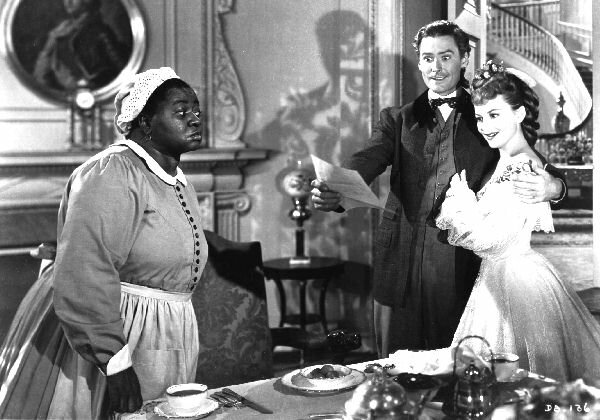 | | | | |
| --- | --- | --- | --- |
| | Libby's discrete influence gets an elated George back on the active list (Hattie MacDaniel - as Callie - looks on). | | Custer finds Sharp is the 7th Cavalry's biggest problem. |
Custer is assigned to run the Seventh Cavalry in the Dakota territory. What he finds is a fort of drunken sods and Sharp selling firearms to the local Indians, surplus Civil War weaponry superior to the Cavalry's own regulation rifles. Custer forces the bar and rifle kiosk shut down and whips his soldiers into shape, inspired in part by the song "Garryowen". He establishes a treaty with Chief Crazyhorse (Anthony Quinn) to ensure safe passage for settlers, with their restriction from the Black Hills in exchange.

The Sharps - along with former West Point authority Major Taipe - come up with a scheme to have Custer discredited and courtmartialed in order to gain access to the Black Hills. But Custer crashes President Grant's office in D.C. and gets his position back to fight along side the Seventh at Little Big Horn. He takes Ned Sharp with him into battle, where the two fall with the rest of the outfit. The widowed Mrs. Custer presents proof of their scheme and they agree to dissolve their business to avoid exposure (the law of historic cinema according to Warner Brothers is that since the public never finds out what truly happened - we don't know the REAL circumstances, therefore events in the movie MIGHT have occured. They used this ploy in THE CHARGE OF THE LIGHT BRIGADE as well).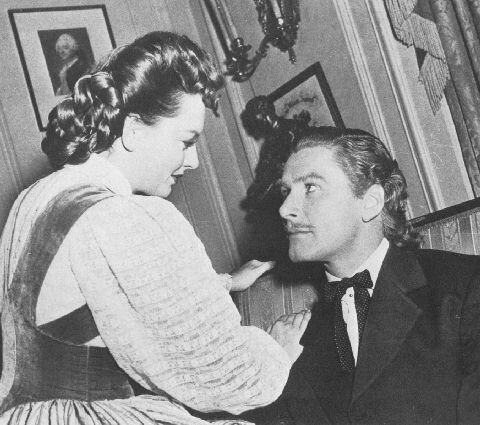 | | | | |
| --- | --- | --- | --- |
| | Olivia de Havilland & Errol Flynn on their final day of shooting. | | Custer prepares a dying declaration just hours before the final battle. |
THEY DIED WITH THEIR BOOTS ON also marked the final movie in which Errol Flynn worked with Olivia de Havilland (their farewell scene in 'BOOTS is particularly poignant, both because the characters know they'll never see eachother again, and that the actors did as well; the performance is very moving). In their previous film together - SANTA FE TRAIL - Flynn had begun to resent other men on the set interacting with her. He even attempted to have lines of flattery delivered by his character instead of someone else's. There are even rumours of him having proposed to de Havilland (to which she allegedly - and wisely - declined), but he was still married to Lili Damita. In fact, it was during the making of this film that Flynn and Damita finally divorced (no doubt holding out for his son Sean to be born first).

Flynn and de Havilland were a magical duo onscreen, and moviegoers finally got to see them as a happily married couple for most of this film. They look very natural indeed, and it often brings to a fan's mind many what-ifs and could-have-beens...

This film used to run quite often on Turner Network Television in the U.S. But has not aired since TNT began its "new classics" promotion and threw all the REAL classics to their TCM channel, where it runs on occasion. This film is available from MGM/UA in all formats and in both B+W and colorized editions. B+W is most definitely the way to go; the colorized version is all done up in sickly colours, sacrificing image clarity. The movie is a must-have for any respectable collection, despite its historic inaccuracies.







All original contents (writing, graphics) ęD.David and
may not be used without permission