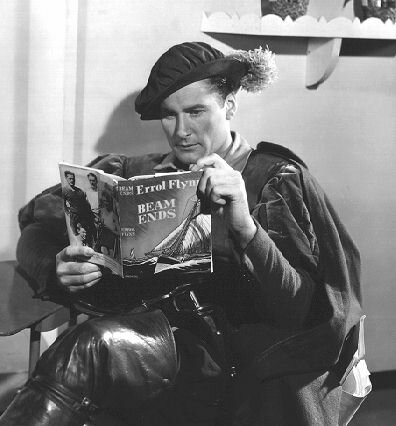 SNOOK: Poetic prank or poisson? As you can see, there IS such an animal.
Errol Flynn: A Memoir
Earl Conrad was called in to ghost Flynn on MY WICKED WICKED WAYS. Conrad spent a good deal of time with him and Beverly Aadland, particularly in Jamaica. His account of chumming with Errol makes for a fascinating read, certainly great fodder for the psychology enthusiasts among you! What you get essentially are the misadventures of a straightlaced man hanging around with a really weird guy. It's more along the lines of observation than speculation; a very human story when compared with conventional biographies, and closer in narration to those titles you'll find in the FRIENDS & FAMILY area of the library.

This book was the first I ever picked up on Errol Flynn, and I have to say there's no better introduction to him as a person. I'd say I learned more about how Errol Flynn's mind works from this book than most any other. Learned a few things about him I never would have expected my first time out, too.

Conrad also ran what was to have been a draft of Errol's final will. It's very amusing and most eccentric; one can see in the flippant dictation a man who really didn't want to have to face the inevitable and all it entailed.

The odd part are the aliases used in the book. Aadland - whose nickname was Woodsie to Flynn - is referred to as Dhondi. Likewise, we see here Flynn's Vienese buddy Hermann Erben represented as a Dutchman by the name of Gerrit Koets. It's possible that these pseudonyms were made by Flynn's request (more speculation re: the Koets alias under MY WICKED, WICKED WAYS among Books By Errol Flynn).

This book is highly recommended. The original edition - if you can find it - contains rare kid pictures among its images, and the text is flanked by Errol Flynn's personal logo, that of a squarish question mark. A MEMOIR is still available in large print and all straight text.

Orig. Publisher (1979):

Dodd, Mead & Company

Orig. ISBN: 0-396-07502-9

222 pages hardbound & photos

Latest Publisher (1992):

Clio Press - Isis Large Print Edition

ISBN: 1-85089-412-4

216 pages hardbound
Queries to:

Clio Press
55 St. Thomas' St.
Oxford, OX1 1JG
United Kingdom



---
All original contents (writing, graphics) ęD.David and may not be used without permission