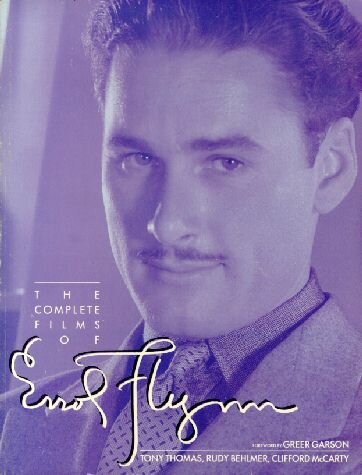 The Films of Errol Flynn
by Tony Thomas, Rudy Behlmer, and Clifford McCarty




The first definitive book. This book lists all the films (with the exception of obscure titles I ADORE YOU and ALWAYS TOGETHER), and has a goodly amount of pictures. There is also a foreword by Greer Garson, who starred with Flynn in THAT FORSYTE WOMAN.

The movies are divided according to milestones in Flynn's career and personal life, with biographical interludes by Tony Thomas. Thomas was to elaborate on the biographical material in future projects.

Every fan should have this book. There's really nothing more to say than that.

Availability: The Hardbound edition has long gone out of print, although one may occasionally come across a copy in used bookshops (It is black cloth with a gold foil stamp of Flynn as Sir Geoffrey Thorpe from The Sea Hawk in the lower left corner). The paperback edition - with the word "Complete" added to the title - is still in print.

Publisher:

United States
Citadel Press (1969)
Hardbound title: The Films of Errol Flynn
224 pages
LOC 78-90400

Paperback title: The Complete Films of Errol Flynn
224 pages
ISBN 0-8065-0237-1



---
All original contents (writing, graphics) ęD.David,
and may not be used without permission